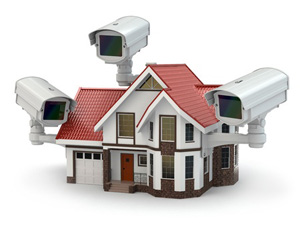 Keep an eye on what's important to you while you're away. With IP cameras you can improve the safety and security of your home! Come and see us for more information. 
Is video surveillance possible with ordinary webcams?
This is possible in theory. All you need for this is a cheap webcam and a corresponding software.
The big disadvantage is, that your computer must be permanently turned on, for the monitoring to work. For this there are IP-cameras or IP-webcams that do not need an active computer.
What are IP-cameras and how do they work?
For a long-term or constant video surveillance IP-cameras are more than adequate.
They are on one hand connected to the mains and on the other hand to the internet, either by ethernet cable or WIFI.
The software is already integrated in the IP-camera, so it does not need a computer connected. This allows much more flexibility in positioning the camera. The cables can be laid to all places inside and outside the house. Is your IP-cam equipped with WIFI, there are hardly any limits in positioning the camera. It only needs to be within the range of your network.

IP-cameras carry the name for a simple reason, they have a firmly assigned IP-address. This IP is unique and it can be entered to a browser from anywhere in the world. By this IP-address you can access the camera from a computer. There you can not only see live pictures but also live videos. Good cameras come with a well developed a software which usually includes motion detection for the camera. If the camera records a motion, you can receive a notification by email.
If you want to monitor a room or the outside of your house at night, you need an IP-camera with night vision. These models use infrared LED's, so that you get a quite clear picture but possible intruders do not discover the camera in the dark.
Contact us today to get a free quote for your personal needs!
| | | | |
| --- | --- | --- | --- |
| |    |                 |    |
| IP cam indoor pan/tilt WiFi | Fixed cam - outdoor + WiFi | Indoor dome IP camera | Outdoor dome camera |